Are you ready to Join in on the latest technology with messenger marketing using chatbots?
Want to learn more about chatbots
Get the guide
What is Messaging Marketing?
Have you heard about Chatbots? A chatbot is software that is automated to communicate with your customers inside messaging apps.
These chatbots, also known as messaging, messenger marketing, messenger bots, or Facebook bots are programmed with a set of rules to communicate. Think of them like email marketing, but through messaging apps.
These messages are sent instantly to your customers and prospects when they interact with messaging apps on mobile and social media platforms, that's right, messages to mobile. Imagine the potential to communicate with new interest directly on the one thing constantly held in their hand – the mobile phone.
Facebook is one of the largest and latest platforms to bring them online.
Messenger marketing with chatbots is one of the most powerful new methods in online marketing. Designing your Chatbots in a meaningful conversational manner is proving more effective.

Get onboard now to avoid being left behind! We have mastered the process.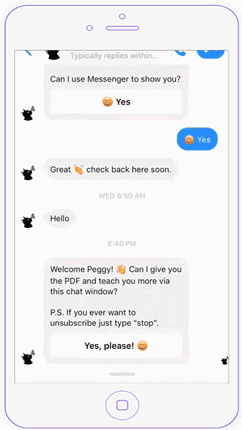 Why every business needs to implement messenger marketing now!

Approximately 6 in 9 Australian's are using Facebook
Million Monthly Active Australian Users
Total Australian Population are Using Facebook
Billion Monthly Active Users Worldwide
Billion Monthly Active Users on Facebook Messenger
Chatbots are revolutionising the way businesses interact with their customers and prospects
How can Messenger marketing with chatbots help your business?
Create personal connections that will generate leads

Chatbots help you to simplify customer experiences by providing personal and direct conversations to people through the messenger platform, which is where people are already spending their time. Chatbots are used to generate new leads, sales and build customer relationships. They may help you reach more people which can increase your customer base.
Purchases can be made on the spot
Your products and services can be browsed and purchased directly in the conversation.
Show you care
Messenger bots are conversational, interactive and instantaneous. Show you care by providing solutions, creating meaningful connections and experiences.
Add humor to your brand voice
Develop your brand's character and voice and use it to speak to your visitors. Program your Chatbot to have a bit of humor, this will make it seem more humanlike, this makes your customers more at ease and makes their experience more satisfying.
Save time
Using Chabots in your business will save you time. When used on your website they can provide fast, automated answers to most questions. Their use prevents customers from waiting a day or longer to receive responses as they would have maybe with email. This allows your business to serve more people while increasing productivity and decreasing costs.
Save money
Investing in a Chatbot will have its costs but the amount of revenue you will gain from it will pay for itself. Your Chatbot will run 24/7, you won't have to pay annual leave or sick days. It can perform the task of several customer service agents. They will not replace customer service they will help reduce the work load.
There's a ton more you can do.
It's simple and brilliant.
Generate More Leads & Close Sales with Chatbots
here is a basic demonstration of one of the touch points available where a prospect can enter the chat experience
Some huge results generated for businesses using chatbots

Tennis Australia
Their goal was to find a better way to target their social media fans and have them purchase tickets easier. The results:
24.3X return on ad spend
20% higher return on ad spend with click to messenger ads
16% lower cost per acquisition with click to messenger ads
4,600 sales from click to messenger ads
Lego
Their goal was to increase online sales. The results:
3.4X higher return on ad spend for click-to-Messenger ads compared to ads that linked to the LEGO website
71% lower cost per purchase when clicking through to the Messenger experience compared to ads optimized for clicks
1.9X higher value for website purchases made from click-to-Messenger ads
Soul Space Media
Generated 11,000 Facebook Messenger subscribers for 13¢ each. His ad campaign brought a 550% ROI for Soul Space Media within a week!.
Sephora
Sephora wanted to encourage more clients to visit its stores by offering them an easy, conversational way to book makeovers, reducing the number of steps required. The results:
11% higher booking rate versus other booking channels
5 fewer steps required to book a makeover
Switching to Messenger Marketing has averaged 80% open rates and 50% click rates for a large number of businesses!
Messenger Marketing Service
Our service to you | What we do
Creation and setup of the Chatbot account and integrations
Conversational content creation
Setup greeting text
Setup main menu
Setup default reply
Setup welcome message
Build 1x full automated flow to be sent to subscribers
Build a single growth tool to promote Chatbot
Improve numbers
Expand the funnel
Fixing what breaks
Keep Chatbot up to date
Testing features
Conversational content creation
Set up and send broadcast messages via SMS or Email.
Create landing pages
Build content upgrades
Facebook advertising to activate chat
Build messages and flows for promotions, sales, specials
Segment users based on specific criteria
Custom monthly reports and analysis
Our Goal: Is to increase your sales by getting new customers and encourage  interaction with existing customers by using Chatbots to keep you and your business top of mind and stand out amongst your competition.
Let's Talk
Wish to discuss your options further
Hire Us
Book a Chatbot Strategy Session to help us get to know your goals better.
Message Us
See how it works, subscribe to our Messenger Chatbot