Build Targeted Advertising that will increase your revenue
Is Facebook Advertising successful?
Facebook has become more of a pay-to-play site and you need to run Facebook ads each month continuously to reach your perfect clients and receive results.  It is necessary and is one of the cheapest sources of marketing. It has powerful audience selection tools, where you can target the people who are right for your business by demographics, interests, behaviours, location, audience lookalikes, competitors and their audience, and your local area by postcode.
Facebook has become more of a pay to play platform
BENEFITS FOR YOUR BUSINESS
Facebook ads have become more complex with all the different choices and changes that Facebook has made.
Direct your Facebook visitors to your core business tool – your website to interact with your brand further.
Gather visitor contact information by building an email list
Use conversion pixels to see what interests your customers for better targeting
Don't spend weeks trying to learn all this on your own, let us help kick your ad campaign off right and guide you to the perfect ad choice.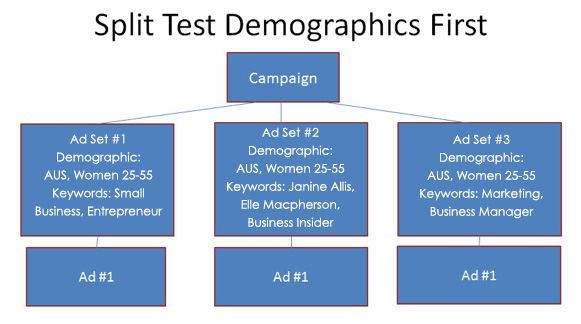 When running Facebook Ads the best approach is to split test a set of ads and different versions of your ads to see what performs and converts best.
Your Facebook campaign structure has three parts:
Campaign: A campaign contains one or more ad sets and ads. One advertising objective is chosen for each of your campaigns.
Ad set: Ad sets contain one or more ads. Your targeting, budget, schedule, bidding and placement is defined at the ad set level.
Ad: The designed ad.
Once a split test phase on one type of ad has been performed you will receive an ad that performed better than the others. Now you can launch a full campaign with the winning ad and know you will get results from it.
Facebook Advertising Services
Our service to you | What we do
Initial research
Account permissions setup
Business manager account setup
Setup conversion tracking
Install Facebook Pixel (if required).
Ad campaign setup
Setup custom audiences
Produce ads copy and design for split testing
Budget setup
Split test ads
Monitoring (maximum 15 days)
Report on which ads performed the best
It is important to note that after the testing phase maintenance begins automatically with the winning ad unless instructed otherwise in writing.
Once we have your best ads up and running, we need to watch them daily to make sure they continue to perform well, they may need to be tweaked just a bit to test new variables.
Daily monitoring of your ads
Stopping underperforming ads
New Ad creation (maximum of 2 new ads created per week)
Weekly reporting
Recommendations of next steps
Let's Talk
Wish to discuss your options further
Hire Us
Book an Advertising Strategy Session to help us get to know your goals better.